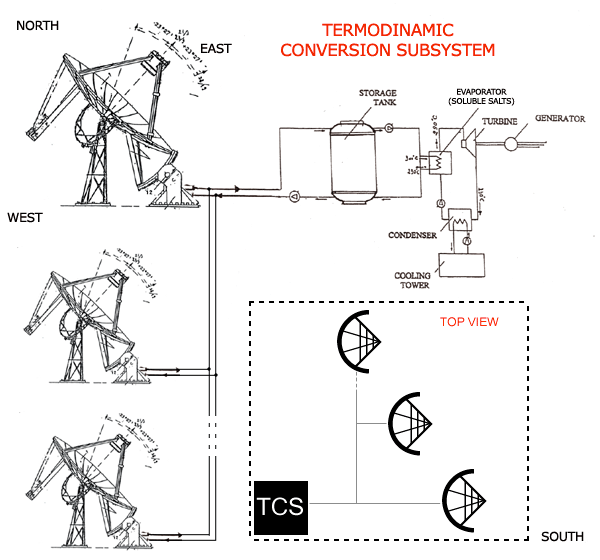 INVENTOR WILLING TO MAKE TRADE AGREEMENT WITH INDUSTRIAL ENTREPRENEUR ABLE TO PLAN, BUILD AND COMMERCIALIZE IN HIS FACTORY THE
Equatorial Mounting Punctual parabolic concentrator for the transformation of solar energy in Electric or Mechanical energy
(Patent n. 1389210 of 09.06.2011 & PCT/IT2008/000414)
The structure's features are:
- The equatorial mounting structure that, unlike the altazimuth one, turns out easily fixable in place also on uneven and rocky grounds and is easy to run for users (see Figg. 2-2a);
- The parabolically curved parabolic concentrator with rotating sectors (v.d. RM2009A0457) which allows to realize concentrators of great dimension without any reduction of steadiness of the same in the presence of strong wind; consequently, the carrying and the movement structures shall be more light and economic (see Tav.1 & Tav.2).
The above said structures can have a wide application field, especially in those sectors that need temperatures from 1000°K to 1300°K for the production of hydrogen electric energy, of drinking water and thermoelectric power adopting, respectively: the hybrid Stirling Motor, fuel cells, steam Reformer, desalinators and Co-generation sectors. Other features are:
Construction and assembly simplicity of the single rotating sectors;
Carrying easiness, the concentrator can be reduced in sectors.
Besides such adjustable structures allow the choice of a paraboloid of any diameter with a high resolution power in order to receive more electromagnetic waves and can be used to build optical radiotelescopes and aerials for satellite communications.

CLICK PAGE FOR WIPO (World Intellectual Property Organization) PAGE
DETAILS